World UNITY Week (WUW) is een baanbrekende online bijeenkomst gedurende 8 dagen in juni, waar wereldwijde changemakers samenkomen om het opkomende goede dat zich in de wereld ontvouwt te verbinden, te vieren en vooruit te helpen.
Van 19 tot en met 26 juni presenteren verschillende (oud-) CHE-ers er een programma. Hun huidige werk heeft wortels in het jaren oefenenen met het gedachtegoed van o.a. SDi, Art of Hosting, Chaotic Design en Meshworking binnen CHE. Eén van de drijvende krachten en mede-organisatoren van deze WUW is The Hague Center For Global Governance, Innovation and Emergence. Dit center werd binnen CHE NL in 2009 geïnitieerd door Peter Merry en Anne-Marie Voorhoeve en richtte zich vooral op buitenlandse projecten. THC is ondertussen prachtig uitgegroeid en opereert met Anne-Marie als director in zowel kleinere locale als in complexe grote projecten op international schaal. Eén van die projecten is World Unity Week dat een mooi voorbeeld is van meshworking; het beoefenen van eenheid in actie, waarvoor CHE de kraamkamer was.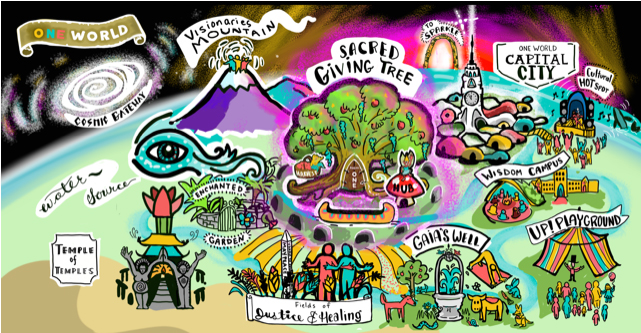 Er zijn misschien verschillende interessante programma's tijdens WUW door (oud-) CHE'ers. Zo is er een sessie met Marilyn Hamilton (Integral Cities) en o.a. Peter Merry over de 'Theory of Everything' (op dinsdag 22 juni om 11:00 CEST zoom ID 91087559939). En gaat Alain Volz in dialoog over meshweaving en 'engaging from wholeness with a broken system' (op 24 juni om 17:00 CEST zoom ID 96542113514). Bijdragen van Anne-Marie in de One World Townhall. En door je hier even te registreren ben je uitgenodigd binnen te gaan in ROOM ONE, voor alle plenaire programma's in zoom.  De kleurrijke grafische weergave van alle 'rooms' maakt je beeldend wegwijs (gemaakt door Kara Stonehouse THC).
Meer informatie:
website: www.worldunityweek.org
Op Facebook volg/like/deel je World Unity Week op: World UNITY Week
Of op: https://www.facebook.com/thehaguecenter
Misschien tot ziens deze week.