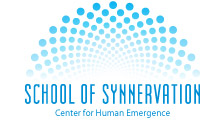 The CHE School of Synnervation is an initiative of CHE Netherlands. It is an institute for education, research and development.
How do we effectively integrate the need for innovation, flexibility, sustainability and profit? How do we set out the right direction within a field of seemingly contradictory interests, differing levels of complexity and a variety of management goals? CHE School of Synnervation offers an integral vision on development and change processes.
Change and development is a given. How do we cope with that? How is this movement influencing us and what is it that drives us? What is our own authentic power and what is the meaning of this contribution and power to the world?
The CHE School of Synnervation supports the development of consciousness by offering people, organizations and communities processes and methods that enable them to learn and to reflect.
We not only help people to develop themselves, we go beyond that. In "synnervating" we implicitly take it to the next level of development, practicing a new state of being.
'Syn' — connects the different 'parts' of a person, organization or society and
'nervate' — vitalizes the new emerging whole.
The CHE School of Synnervation offers an integrated vision on development and change processes by offering training and coaching for businesses and individuals. The school also researches for third parties (and CHE Netherlands) aimed at developing prototypes of working methods and techniques that take into account the complexity and the resilience needed of people and organizations.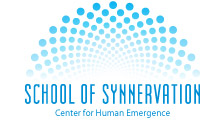 De CHE School of Synnervation is een initiatief van CHE Nederland. Het is een instituut voor opleiding, onderzoek, en ontwikkeling.
Hoe brengen we de behoefte aan innovatie, flexibiliteit, duurzaamheid en winst op een effectieve wijze samen? Hoe vind je de juiste koers binnen het veld van ogenschijnlijk tegengestelde belangen, verschillende niveaus van complexiteit en uiteenlopende managementdoelstellingen? CHE School of Synnervation biedt een geïntegreerde visie op ontwikkeling en veranderingsprocessen.
Verandering en ontwikkeling zijn een constante. Hoe gaan we daarmee om? Hoe is die beweging van invloed op ons en wat beweegt ons zelf? Wat is onze eigen authentieke kracht en welke bijdrage kan deze kracht leveren aan de wereld?
De School of Synnervation ondersteunt de ontwikkeling van bewustzijn door mensen, organisaties en maatschappij passende processen en middelen te bieden die hen in staat stellen te leren en te reflecteren.
Daarmee zijn wij een school in de zin dat we mensen en organisaties helpen ontwikkelen, maar we gaan verder. In het 'synnerveren' ligt besloten dat we die ontwikkeling met onze praktijk kunnen ondersteunen naar een nieuwe staat van zijn.
Syn – verbindt de verschillende 'delen' van een persoon, organisatie of samenleving – en
nervate – vitaliseert het nieuw ontstane geheel.
School of Synnervation biedt een geïntegreerde visie op ontwikkeling en veranderingsprocessen. Door middel van opleidingen en coaching voor de zakelijke en de particuliere markt. En door het verrichten van onderzoek in opdracht van derden (en het CHE NL) gericht op het ontwikkelen van prototypes van methoden en werkwijzen die recht doen aan de complexiteit en de benodigde veerkracht van mensen en organisaties.